The 21st Screen Actors Guild  Awards went underway yesterday with Birdman taking the coveted top honours of Best Cast in a Motion Picture, though the film's lead, Michael Keaton, just missed out to Brit and Oscar favourite, Eddie Redmayne for his portrayal of Stephen Hawking in the Theory of Everything. Unfortunately however, the brilliant biopic's leading lady, Felicity Jones, couldn't quite beat Julianne Moore to take the title of Best Performance by a Female Actor in a Leading Role, the latter claiming it for her performance in Still Alice.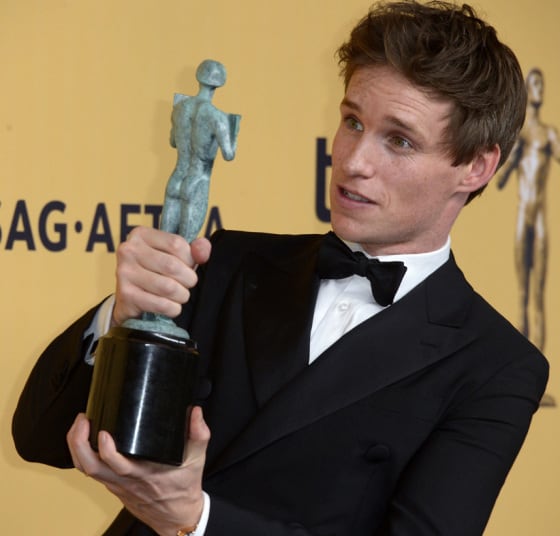 There was tough competition for the Best Performance by an Ensemble in a Drama Series category with the likes of Game of Thrones and House of Cards going against the equally successful Boardwalk Empire and Homeland. Unfortunately for all of these great shows however, Downton Abbey pipped them to the post.
Other notable winners include Orange is the New Black which earned awards both for the best ensemble performance in a comedy but also for actress Uzo Aduba who took the award for best female performance in a comedy.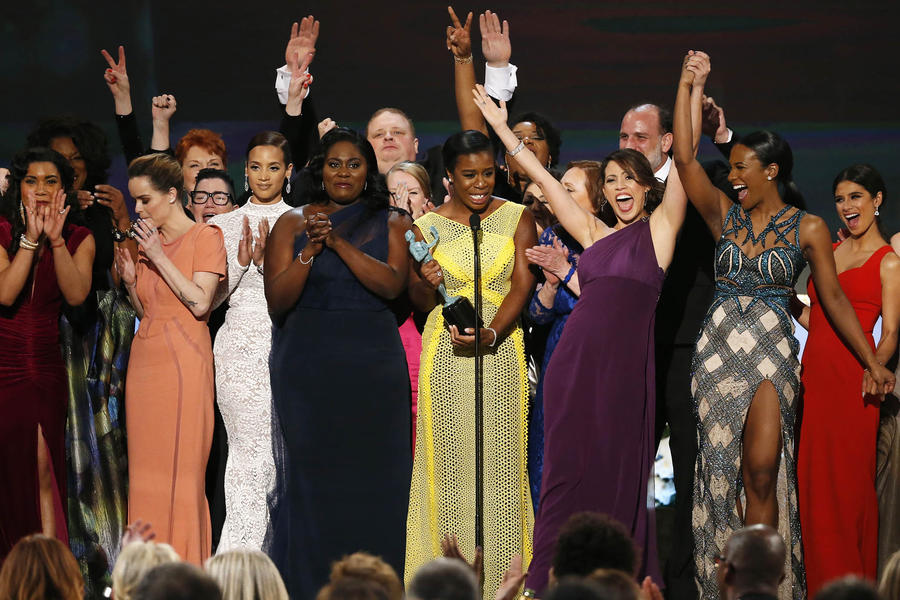 Viola Davis beat the brilliant performance of Tatiana Maslany in Orphan Black, as well as other favourites to claim the prize for Best Performance by a Female Actor in a Drama Series, and the respective prize for best actor deservedly went to Kevin Spacey's fantastic work as the ruthless Frank Underwood in the political thriller, House of Cards. If I could have things my way, I'd have struggled to separate both he and Peter Dinklage for the honour as the latter's performance as Tyrion Lannister in Game of Thrones makes him one of the most memorable characters of the ensemble drama.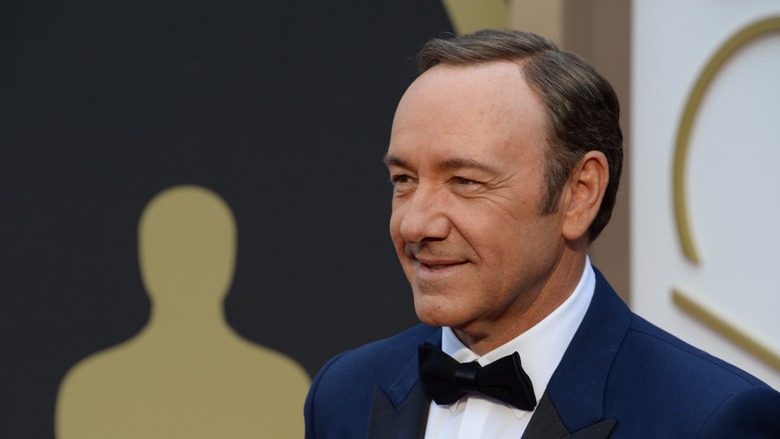 Being the stunt fan that I am (I used to want to be a stuntwoman once upon a time and still get pangs of jealousy when I see the cool stuff they get up to on set), it's great to see action performances getting recognised. This year the honours went to the stunt ensembles from Unbroken and Game of Thrones.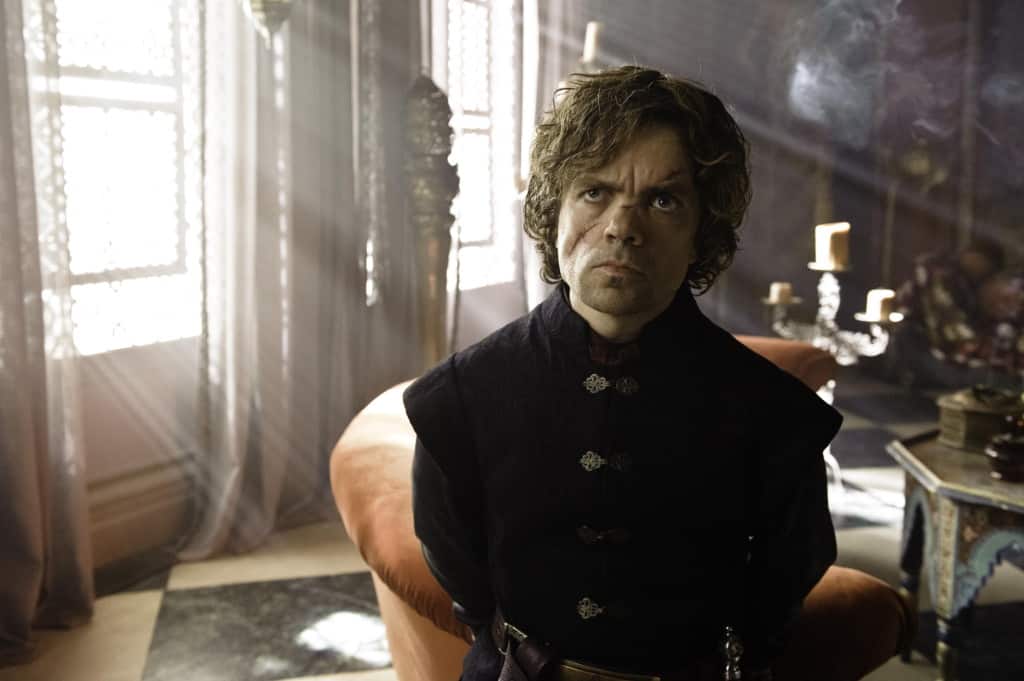 Below are the full list of nominees and award winners. Don't forget to let me know your thoughts on who your SAG Award winners would be!
Performance by a cast in a motion picture
WINNER: "Birdman"
"Boyhood"
"The Grand Budapest Hotel"
"The Imitation Game"
"The Theory of Everything"
Performance by a male actor in a leading role
Michael Keaton, "Birdman"
Benedict Cumberbatch, "The Imitation Game"
WINNER: Eddie Redmayne, "The Theory of Everything"
Jake Gyllenhaal, "Nightcrawler"
Steve Carell, "Foxcatcher"
Performance by a female actor in a leading role
WINNER: Julianne Moore, "Still Alice"
Reese Witherspoon, "Wild"
Felicity Jones, "The Theory of Everything"
Rosamund Pike, "Gone Girl"
Jennifer Aniston, "Cake"
Performance by a female actor in a supporting role
WINNER: Patricia Arquette, "Boyhood"
Keira Knightley, "The Imitation Game"
Emma Stone, "Birdman"
Meryl Streep, "Into the Woods"
Naomi Watts, "St. Vincent"
Performance by a male actor in a supporting role
Robert Duvall, "The Judge"
Ethan Hawke, "Boyhood"
Edward Norton, "Birdman"
Mark Ruffalo, "Foxcatcher"
WINNER: J.K. Simmons, "Whiplash"
Performance by an ensemble in a drama series
"Boardwalk Empire"
WINNER: "Downton Abbey"
"Game of Thrones"
"Homeland"
"House of Cards"
Performance by an ensemble in a comedy series
"The Big Bang Theory"
"Modern Family"
"Brooklyn Nine-Nine"
WINNER: "Orange Is the New Black"
"Veep"
Performance by a male actor in a television movie or miniseries
Adrien Brody, "Houdini"
Benedict Cumberbatch, "Sherlock: His Last Vow"
Richard Jenkins, "Olive Kitteridge"
WINNER: Mark Ruffalo, "The Normal Heart"
Billy Bob Thornton, "Fargo"
Performance by a female actor in a television movie or miniseries
Ellen Burstyn, "Flowers in the Attic"
Maggie Gyllenhaal, "The Honorable Woman"
WINNER: Frances McDormand, "Olive Kitteridge"
Julia Roberts, "The Normal Heart"
Cicely Tyson, "The Trip To Bountiful"
Performance by a male actor in a drama series
Steve Buscemi, "Boardwalk Empire"
Peter Dinklage, "Game of Thrones"
Woody Harrelson, "True Detective"
Matthew McConaughey, "True Detective"
WINNER: Kevin Spacey, "House of Cards"
Performance by a female actor in a drama series
Claire Danes, "Homeland"
WINNER: Viola Davis, "How to Get Away With Murder"
Julianna Margulies, "The Good Wife"
Tatiana Maslany, "Orphan Black"
Maggie Smith, "Downton Abbey"
Robin Wright, "House of Cards"
Performance by a male actor in a comedy series
Ty Burrell, "Modern Family "
Louis C.K., "Louie"
WINNER: William H. Macy, "Shameless"
Jim Parsons, "The Big Bang Theory"
Eric Stonestreet, "Modern Family"
Performance by a female actor in a comedy series
WINNER: Uzo Aduba, "Orange Is the New Black"
Julie Bowen, "Modern Family"
Edie Falco, "Nurse Jackie"
Julia Louis-Dreyfus, "Veep"
Amy Poehler, "Parks and Recreation"
Action performance by a stunt ensemble in a motion picture
"Fury"
"Get On Up"
"The Hobbit: The Battle of the Five Armies"
WINNER: "Unbroken"
"X-Men: Days Of Future Past"
Action performance by a stunt ensemble in a comedy or drama series
"24: Live Another Day"
"Boardwalk Empire"
WINNER:"Game of Thrones"
"Homeland"
"Sons Of Anarchy"
"The Walking Dead"