"Aimee has been put to the test with crowded action scenes, low light environments, and tight spaces.  Somehow she always gets the shot.  She's an on-set ninja who nails composition, captures the authenticity of a moment, and looks for how the story can be told in a single frame." 
-
Leslie Sager 
Photo Director - Outlander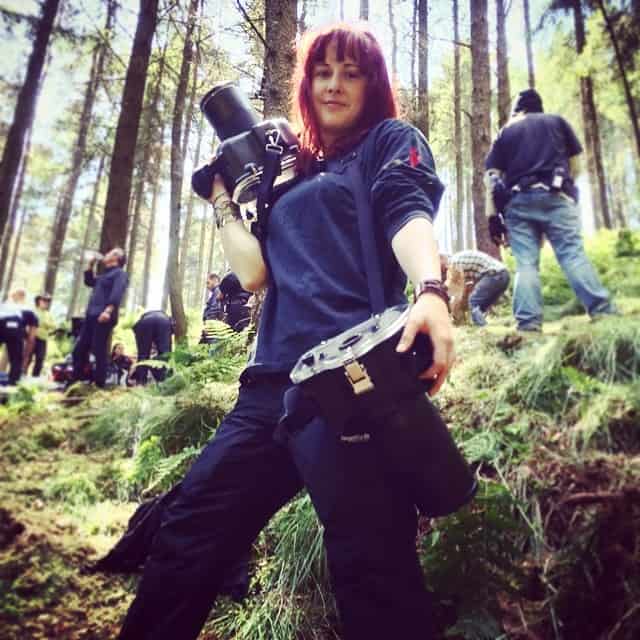 Aimee works internationally as a photographer specialising in providing production stills and gallery photography to the film and TV industry and has an extensive list of film and tv credits, having worked alongside talent including Samuel L. Jackson, Eddie Redmayne, Margot Robbie and many others.
Aimee prides herself on her ability to work unobtrusively on set to capture the heart of a production, as well as making cast and crew feel comfortable with her presence - particularly during sensitive scenes or when working with young and demanding casts.
Aimee has also found being petite to be an advantage when needing to work in small, intimate spaces without getting in the way of the cast or crew and has regularly received praise from camera crews and 1st ADs for her ability to 'work like a ninja' whilst still getting the shots the production needs. Though small, Aimee is not afraid to muck in, dangle off cliffs or shoot in other challenging conditions to make the shot.
Being young and energetic, Aimee has an affinity for working with child actors and holds a DBS (formerly CRB) certificate.
When not running around as a unit stills photographer, Aimee can usually be found at her local pole fitness studio or at the nearest karaoke bar.
View full portfolio | Film & TV credits | Check Aimee's Availability