Everyone wants to know what makes a great acting headshot. Well who better to ask than a casting director and a director?
Sharon Sorrentino is a London based casting director with over 13 years' experience in the industry, responsible for casting multi-award winning films such as The Journey, Grandfather and The Storyteller as well as authoring The Audition Room,  a pragmatic guide for actors offering tips and inside knowledge on how to land the audition you want.
Tracey Street is a Birmingham based freelance theatre director, as well as an acting and directing coach, and has a show appearing at the Edinburgh Fringe Festival called The Testament of Mary, that completed a sold out run at The Old Joint Stock Theatre in Birmingham, this April.
WHAT'S THE TYPICAL PROCESS YOU GO THROUGH WHEN CASTING FOR A ROLE?
SHARON: When we are the sent the script, we break it down into the characters. Once we've broken down the characters with a little more depth, we think about actors whom we think would be a good fit and an interesting choice for those roles, we don't just want to go for the obvious choice. We check those actors' availabilities for the production with their agents or directly if they are currently representing themselves. Most casting directors will also put a production and character breakdown out to agents via websites such as Spotlight and CastingNetworks so that they can suggest their appropriate and available clients, though not necessarily for every project we cast. We audition the actors for the roles, usually with the director and/or producer present, though not always at the first stages. Some productions will recall for chemistry reads where we pair up actors who would be playing particularly close roles e.g. spouses, work partners or best friends, if there is the time and budget. We are very involved and always on the actors' side, fighting for the best actor, not the most famous or the prettiest.
TRACEY: After receiving CV's and headshots from actors who would like to put themselves forward to be considered for the role(s) being advertised, The first stage of the process for me is to look through the headshots. I'm asking myself, does this person look like how I see the character? Do they have the essence or energy of the character being cast? (e.g do they have a vulnerable quality, kind eyes and smile, a vibrancy, soulfullness, a gutsy urban vibe etc)  If I feel they have a look that I like and connect with for that character then I investigate further into that person. I will look at other headshots they have and any showreel footage.
Also at this stage if I don't feel like I connect with the vibe and energy of the person in the headshot I will rule them out for an audition. For example, if a person looks unfriendly or moody or might have a bit of an attitude – I am considering that I have to spend 3 to 5 weeks (sometimes longer ) working and creating with this person; I want to choose people I am going to enjoy working with and connect with. Sometimes a selection of headshots that are actors playing only mean and moody put me off – they seem to take themselves too seriously!  Personally I'm particularly drawn to pleasant smiley headshots as they give more of an essence of the person – so I look for the character I'm casting for and I'm looking for the person – the actor – looking for their heart and soul – their essence.
I know actors that have only mean and moody headshots but in real life they are the most pleasant, enjoyable, creative people to work with, but from just their moody headshots I would have ruled them out. Thus I feel it's good to have a variety of headshots.
After this stage I will look at their CV to see where they trained and what other work they have done, what other companies they have worked for and often if I know particular companies or directors I will get in touch with them to get an informal reference. If a submission gets through these stages then I will call them in for an audition, to meet and work with them in person.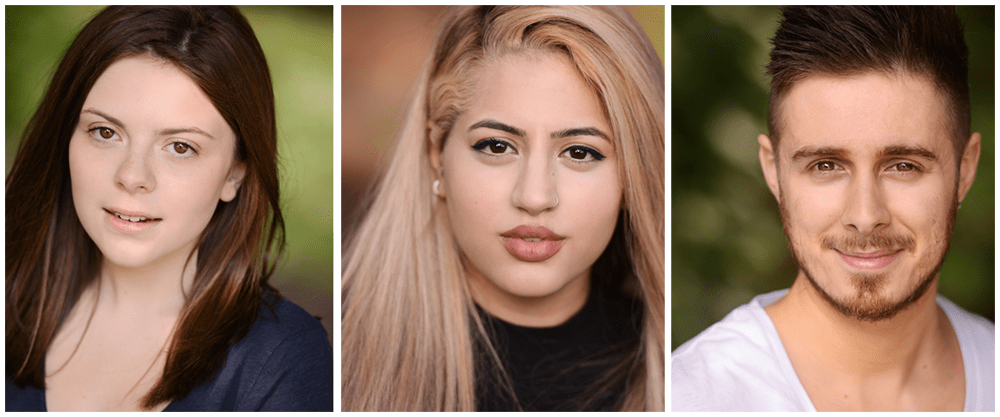 ON AVERAGE HOW MANY ACTORS APPLY FOR A ROLE / HOW MANY HEADSHOTS ARE YOU LOOKING THOUGH TO FILL A SINGLE ROLE?
SHARON: We usually have to look through hundreds of submissions from agents per role that we are casting, as well as thinking on our own ideas and sometimes when specific skill sets are needed we will do searches and they can be in the thousands.
TRACEY: This is impossible to say, there are so many variables.   Some roles I have had to cast I have had a LOT of submissions to get through, particularly for lead roles.  I've had up to 70 submissions for some castings.
"The headshot is HUGELY important. It's the main thing that I look at. If someone doesn't have a good headshot it really puts me off.  If it's not a good professional quality headshot it makes me question the actor's professionalism and quality of work."
HOW IMPORTANT IS AN ACTOR'S HEADSHOT TO YOU?   HOW MUCH OF A PART DOES IT PLAY IN GETTING THE ACTOR AN AUDITION?
SHARON: An actor's headshot is the first impression they can make with us and the director and producers. It is part of our job to always be increasing our knowledge base of working actors, so we go to see a lot of theatre and watch a lot of TV and films. We could see someone fantastic in a fringe theatre show somewhere and want to bring them in for a production. If their headshot is not an accurate likeness or is badly posed, lit, not their best side, etc, this can all work against them where the others on the creative team are concerned if they do not know their work.
If we are searching through Spotlight for example, to widen our searches, we are looking at thousands upon thousands of thumbnail headshots before we click on them to look at their CV, showreel and more headshots to investigate those actors further. Again if it is a bad likeness or you are not engaged with the camera you are holding yourself back and will be missing opportunities.
TRACEY: The headshot is HUGELY important. It's the main thing that I look at. If someone doesn't have a good headshot it really puts me off.  If it's not a good professional quality headshot it makes me question the actor's professionalism and quality of work.   I need to be able to see an actor's face clearly. I need to be able to see what they actually look like – there's nothing worse than an actor that you have called for an audition, turning up and looking nothing like their headshot.   If the headshot doesn't grab me, if I don't connect with it, then I won't call that person in for an audition.
I have even gone out of my way to suggest to some actors (that I know and know the quality of their work) that they get better headshots done as the ones they have just don't represent who they are as a person or as an actor.
WHAT MAKES SOME HEADSHOTS STANDOUT OVER OTHERS TO YOU?   IS THERE ANYTHING YOU LOOK FOR IN PARTICULAR?
SHARON: An actor's headshot needs to be current, there are so many actors whose headshots are 15 years old. They come in to meet and they look completely different and sometimes not really appropriate for the role. They need to be engaged with the camera and thinking about something. Whether it's a toothy smile, Mona Lisa smile or a determined and more hard/harsh a look is up to the actor. I would always say the main picture is the most important, a Mona Lisa smile works better for me personally because it's more open to interpretation than the hard man look or the overly bubbly look. I won't ignore the other photos though. On Spotlight you can have a number of secondary pictures, this is where you want to show your different looks and expressions as these cause different feelings to the viewer. Don't use props such as glasses if you don't normally wear them. Don't wear distracting tops, frills, crazy patterns or colours which are too bright as these all detract from your face.  Don't do any arty poses with your hands obscuring any part of your face. What I am looking for is an open picture with eyes very clearly in focus and where an intelligence is conveyed because the actor is thinking about something, not just grinning at the camera.
TRACEY: Some of the answer to this is in the answer to the first question. I like headshots that don't look too 'posed' I want to see the person, the energy, essence and character of that person. I want to see a smiley one, a serious or more neutral one, a warm one, I don't like to see 'posed' 'acted / 'playing a part' shots.   As a director I want to imagine that myself, I can judge that from basic shots of them as serious, smiley, warm etc.
I like to be able to see the persons face clearly and lit clearly (no moody lighting) No distracting backgrounds.  I want to see the uniqueness of that person/actor. Their essence and energy. That's what I will ultimately connect with.
HOW MANY HEADSHOTS DO YOU THINK AN ACTOR SHOULD HAVE ON THEIR SPOTLIGHT/ CASTING CALL / WEBSITE? DO YOU LIKE TO SEE A RANGE?
SHARON: I think 5 or 6 is a good number. Your main headshot and some others which show you in a different light, darker character looks if your main shot is smiley, or vice versa. A production still in the secondary photos is also a good way to see you in action before viewing the showreel, especially for actors who have not done that much screen work.
TRACEY: Yes I do like to see a range, maybe wearing their hair differently, in different colours and style of clothing also.  I think maybe 4 or 5 gives a good variety. But of course with that main headshot that is full of their character and essence to grab the attention first.
Interested in booking your next actor headshots? Find out all about my sessions along with prices, HERE. In the meantime, why not check out some of these useful links?