Welcome back to my blog! If you're reading this in an email, you might want to head over to HERE to get a proper look at the images!
Over the next couple of entries I'm going to use a case study to look at how small changes in posture, expression and lighting can drastically change your headshots, as well as discussing what to look for when it comes to choosing your final headshots from a shoot that may well contain several hundred! First let's look at posing!
So you're getting ready to book your first session with a headshot photographer? Have all the confidence in the world in front of an audience but don't know what to expect when your audience is a lens? Don't panic! I'm going to give you some quick tips on what to aim for during you next actor headshot session by using my recent shoot with actor, Torin Pocock, as a case study! Torin is a multi-talented performer and has an extensive portfolio when it comes to presenting, radio and even has a bit of modelling under his belt though when you see his photos, I doubt the latter will surprise you!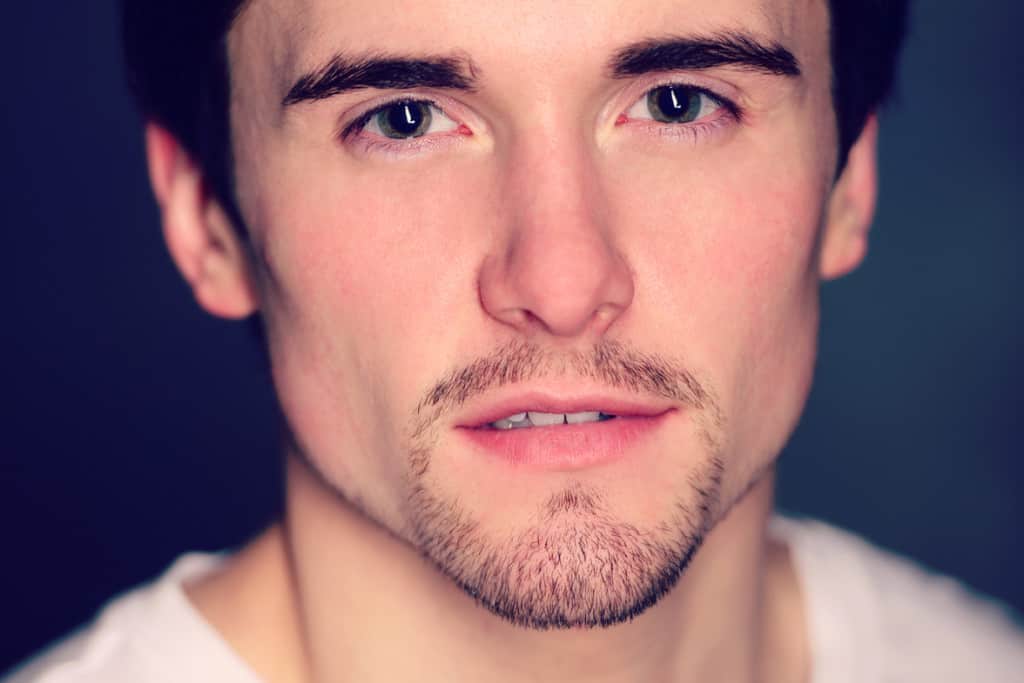 Torin however wants to start to really focus more on his acting and realised that getting a solid set of actor headshots was the way forward. We had a brief chat about his previous experience, the type of acting he has done in the past, the type he hopes to do, as well as talking about his casting type.
As an actor it's really important to understand your casting type – whilst variety is great, it's vital to know your niche as well as how casting directors might view your headshot. Once you've identified this, speak to your headshot photographer and help them to understand the way you need your actor headshot to come across.
In Torin's case, his personal character seemed to reflect his casting type: strong, charismatic and confident. These were the traits we wanted to draw out of the headshots so that a casting director might see him as either a potential leading man, the heartthrob, the middle class businessman or one of many other characters fitting these characteristics. All this had to come across within a very small number of professional actor headshots.
A key thing to remember when it comes to actor headshots, is that the slightest movement or change can dramatically change the impression a headshot gives. For instance, if the camera is looking up at you, it's going to put you in an authoritative position within the frame – something synonymous with strong or perhaps darker characters. This can then be emphasised further by narrowing the eyes slightly (never ever go overboard with this) or raising the chin a little.
In direct contrast with this, if the camera is looking down at you, you are placed in a slightly more open position in the frame, synonymous with being friendly and approachable. Again this can be emphasised by a slight smile to create a completely different shot from the first, without having changed much at all.
Having said all this though, it is vital to remember not to overdo any of it. When I say 'looking down,' or 'looking up,' I mean only by very small increments! The same is to be remembered if a photographer asks you to tilt or move your head to one side – don't stand side on to the camera and try craning your neck back to it. Be as front on as possible as this gives a casting director the clearest view of you possible! Look at the difference between these two shots: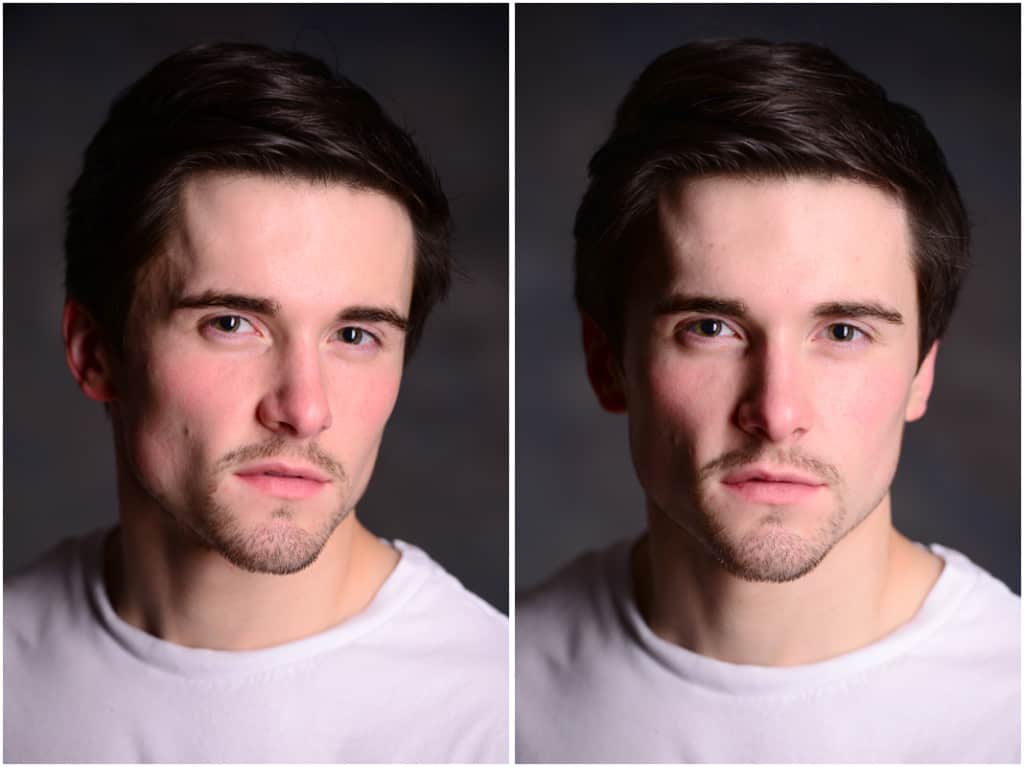 Other things not to overdo are expressions! If you want to show you're a friendly, approachable person who enjoys a laugh, don't give the camera ear to ear smiles – even if it's genuine, it is often far too much for an actor headshot. Keep your smiles small, or better yet, simply hint at them as it gives your headshot a little more intrigue! The only exceptions to this rule are if you really are a huge and funny personality and really want to show this off, or you want a more fun and contemporary shot to use ALONGSIDE (not as) your main headshot. Which of these looks better to you?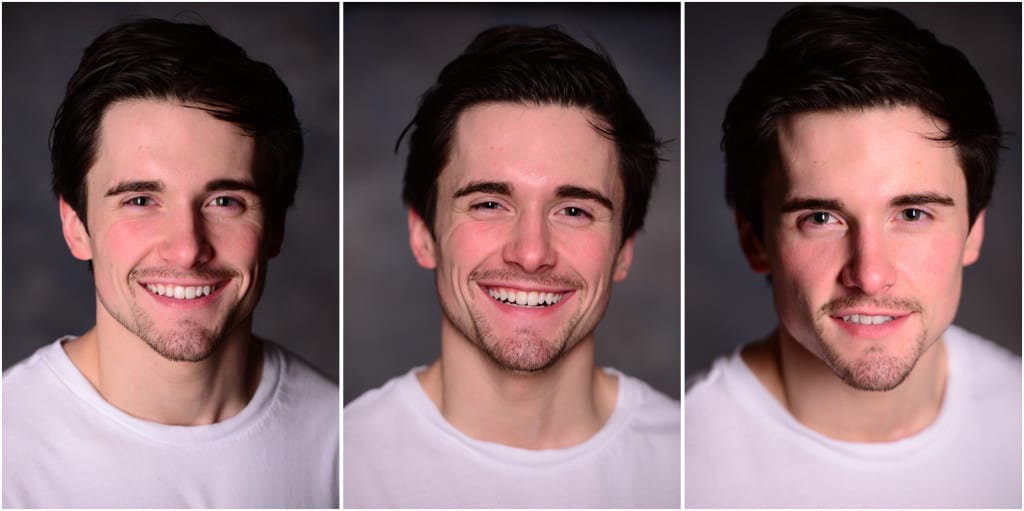 In contrast to this, if you want to come across as brooding or menacing, tone down the pout and for the love of all that is acting, don't scrunch up your eyes! Your eyes are by far the key feature of a good actor headshot and is often the part that draws a casting director in. You therefore don't want them hidden under over narrowed brows or hair!
Instead of pouting your lips, relax and part them slightly; this looks far more natural whilst also maintaining a hint of passion and sex appeal (don't believe me? Check out most of the images you see of models in high fashion ad campaigns). When it comes to giving the camera a more intense look, rather than narrowing the top of your eyes, instead try raising the bottom. If you're not familiar with this technique, it may sound a little odd, but the feeling you want to achieve in your eyes is the same one you get when you have a genuine smile that spreads to your peepers. Now you just need to practice how to do it without smiling! See how much better the second image is?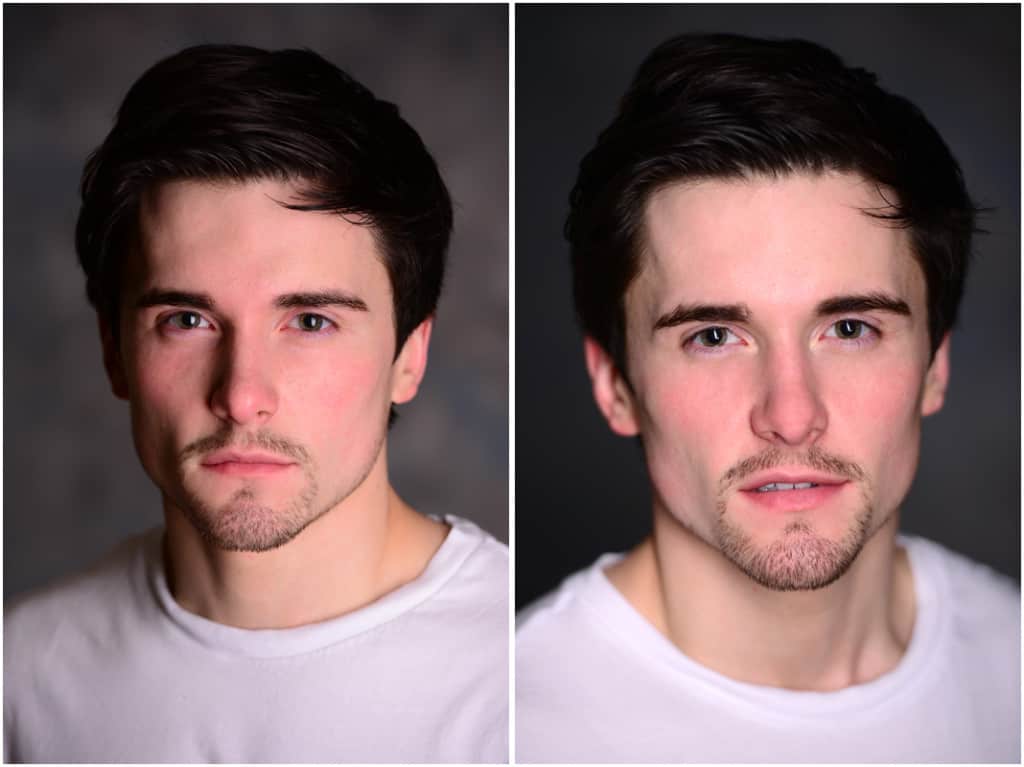 If you struggle with these techniques, a good headshot photographer will be able to give you direction and exercises to try out on the day in order to help you find it.
If you take away one thing from this entry, remember to keep everything feeling as natural as possible as this is ultimately what we need to achieve in your actor headshots. If you have found any other techniques relating to posing that you have found particularly useful in your own headshots, feel free to leave a comment or drop me an email via [email protected] for your chance to win some free headshot images!
In the next entry, I'm going to be discussing how you go about selecting your final images!
Stay tuned!